Activities for Children
Family work parties
In the summer months we organize daytime garden work parties geared toward young children. Many of our gardeners have children—their ages range from newborns to tweens—and we find the summer evening work parties run a little late for their schedules. At the family work parties we bring snacks to share and plan art activities and other projects to keep the kids engaged and busy while we garden. We also take turns looking after the kids so we can get some gardening done together—we find that we can get a lot more work done in the gardens when we can collectively keep an eye on the kids. During the work parties we spend time teaching the kids about gardening when they express interest. Our children are learning about how different insects help us grow food, developing the ability to identify weeds from welcome plants, and growing a sense of environmental stewardship by helping to take care of the gardens. They are also building a sense of local community by working in the gardens together with other families. For many of the children, volunteering to help maintain the communal areas of Maple Community Gardens is one of their first experiences of volunteerism, and they feel proud to be helping out.
Family work parties are organized by Krista in Section 7 and all members of Maple Community Gardens are welcome to attend. If you are interested in becoming involved, please send an email to  to be added to the email list for future events.
The Children's Garden
In the east end of Maple Community Gardens we are planning a children's garden. The children love participating in the labour of gardening, but often they just want to play, create and have picnics. The goal of the children's garden is to provide a fun, natural play space within the gated areas of the garden so we can more easily keep an eye on our kids while they play, and know they are safe and having fun while we are gardening. For many of us the gardens are our back yard.  We are currently fundraising for this initiative. Plans include a raised bed for creative, natural play—a spot to dig without worrying about damaging the food we are growing in the other beds; a place to build creations out of shells, sticks, petals, stones and whatever else inspires them. We are excited to grow bean teepees and fairy rings.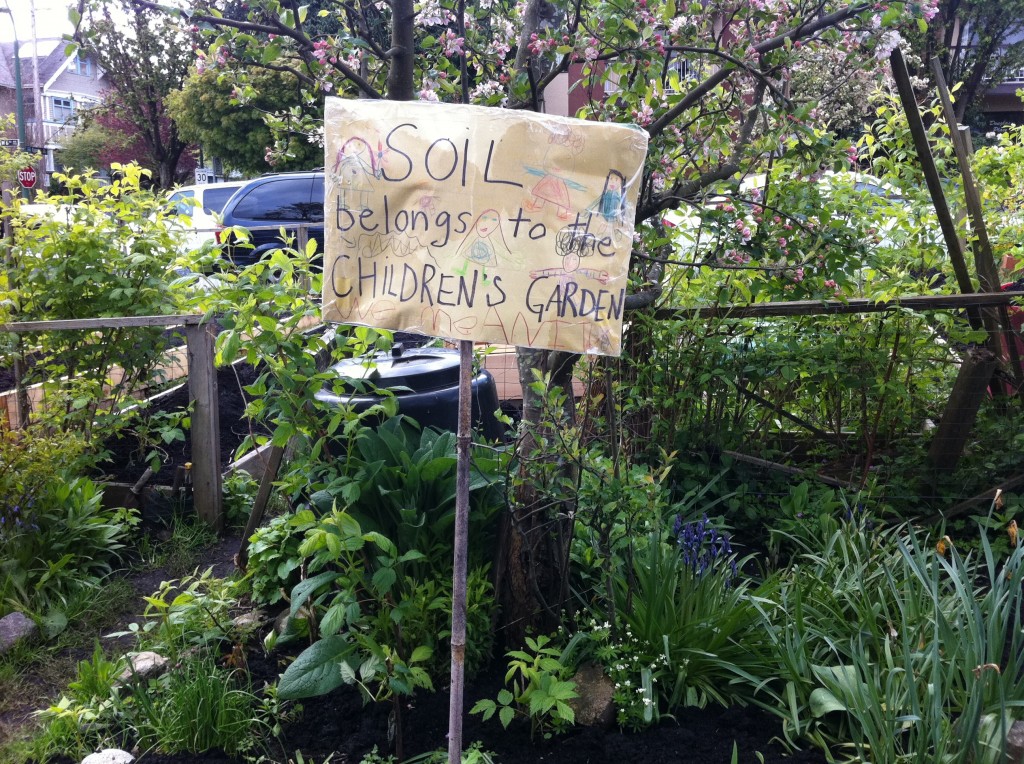 We are also collecting materials to build a cement and tile mosaic as a participatory art project involving lots of the children in the community. Children will be able to sign their name, make a hand print or draw a picture into the concrete surface, and also help us decorate the surface of the mosaic with beads, tiles and other materials. The mosaic surface will hopefully become our new picnic and teaching area.
Please watch this space for updates on this project.