May 2016
Set out heat loving plants – such as Tomatoes, Peppers, Squash, and Aubergines (Eggplant) when night time temperatures are at least 10C. Because of our earlier growing season it should be safe to start bush beans and climbing beans now too.
Plant bedding plants – Marigolds (which keep insects at bay when grown with veggies), Alyssum, Geraniums, Petunias and other flowering bedding plants are safe to plant now as well as most perennials. 
Start bee friendly plants – Bee Balm, Cosmos, Lavender, Heather, Bachelor Buttons, Campanula and Borage all provide food for the bees. The space on the south side of the fence could be used for some of these plants, but please do not disturb existing patches of clover patches, tansy and borage.  This website provides a great overview of many bee-friendly plants by season, with great colour photos:  Feed The Bees
Plant fruit – such as strawberries, blueberries and raspberries. Use Rhododendron fertilizer for blueberries, as they are acid loving plants. 
'Feed' spring bulbs – with diluted fish fertilizer and remove the foliage as the plant dies down. You can remove bulbs if space is needed for new plants, and store them off-site until the fall. Just dig up the bulbs, put them in a box, cover lightly with soil and store them in a cool, dry place over the summer. Then they'll be ready for planting in the fall, and to bring back some colour to your garden again in the spring! 
Stop the spread of aphids – they can be hosed off plants with fine strong spray of water or removed by hand.
June 2016
Continue to plant – most seeds and/or veggie transplants can be planted successively for continuous crops until the summer heat of late June, July & August is too much.
Continue garden tending – regular weeding, removing morning glory, and clipping grass around your plot [including the North/street-side fence line, inside and out].
Remember to fertilize – use diluted Fish Fertilizer during growing season following instructions on container.
Prevent mildew problems – with plants like squash, zucchini, tomatoes and dahlias it's a good practice to:
water from underneath
keep water off leaves if possible
water early in the morning rather than in the evening, so that leaves don't become damp
try to keep good air circulation between plants (hard to do in our small spaces!)
always remove leaves affected by mildew and put them in the garbage, not the compost.
Here's an example of powdery mildew on squash leaves: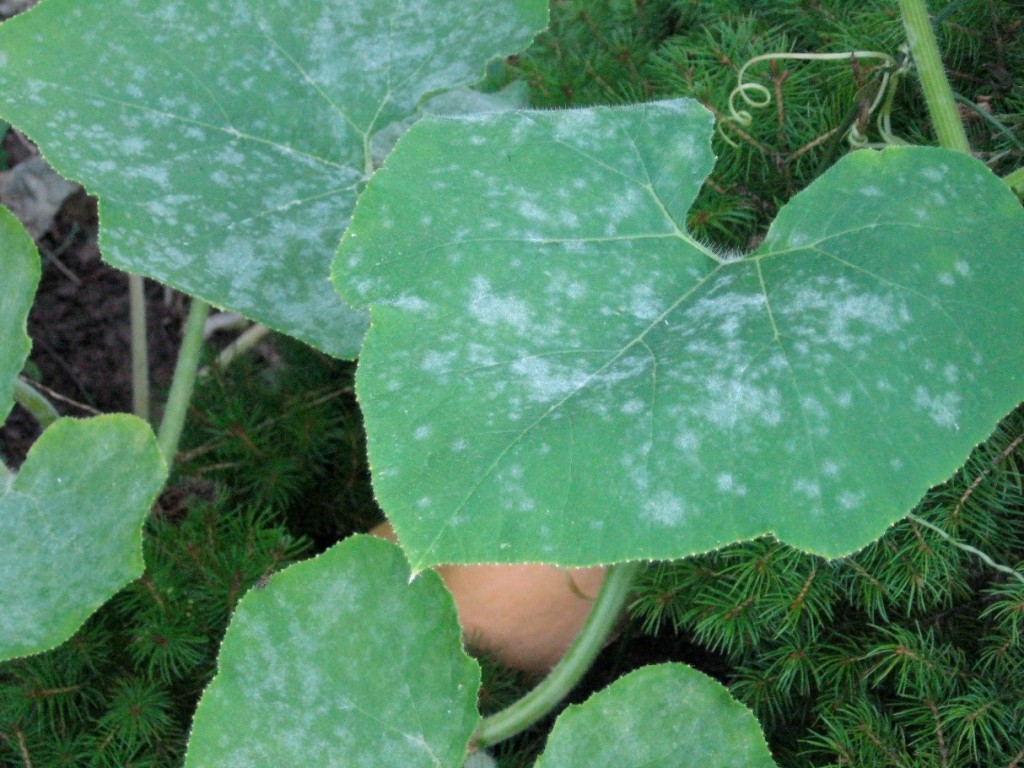 ediblegardenproject.com
                         Organic Remedy for Mildew
1 teaspoon of baking soda [sodium bicarbonate]
3-4 drops vegetable oil
3-4 drops liquid dish soap [not laundry detergent)
1 liter of water
Dissolve baking soda in the water, add oil and soap, put in a spray bottle. Spray on plants early in the morning every one to two weeks throughout the season.  This remedy works well if applied in the early stages of mildew, or before an outbreak occurs.
Enjoy playing in the dirt and tasting the fruits and vegetables of your labour 🙂