[UPDATE Sept 11] Pesticide spraying postponed
Greetings fellow gardeners,
the herbicide treatment for Japanese Knotweed has been postponed until the end of September.
In the meantime, the Executive Chair and Vice Chair have emailed the City of Vancouver directly to advise them of our concerns and a member is gathering info from Diamond Head Consulting about the treatment process so that we can asses the potential risk to the garden.
There is no need at this time to contact the City of Vancouver or Diamond Head Consulting. The Executive will continue researching and will forward additional information to all members as soon as possible.
Thanks to all who made the effort to protect the health of our gardens on such short notice🌻.
Thank you for your support and have a WONDERFUL day!
your Maple garden executive
—— original post: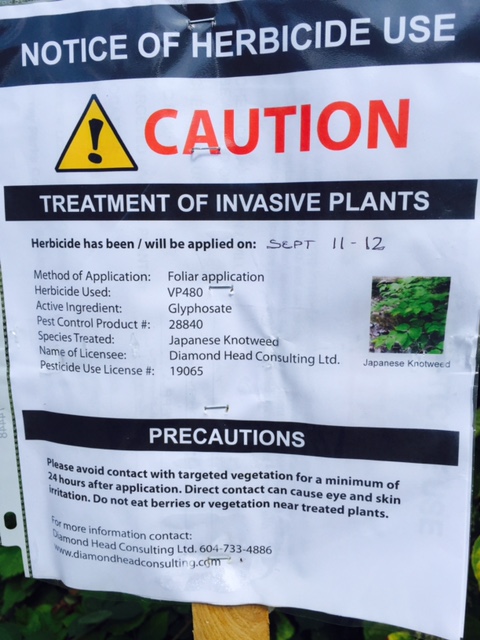 Fellow gardeners;
Notices along the Arbutus Corridor announce that the city is planning on spraying a pesticide – Glyphoshate – along the North side of the corridor tomorrow September 11th.
We encourage each and everyone of you to call 311 ASAP and request that they do not spray along our gardens (or anywhere close to the bees).
If anyone is available to keep watch at the garden tomorrow in an attempt to insure that our gardens are not contaminated, it would be highly appreciated.
While Glyphosphate appears to be among the least toxic of this class of herbicides, the city must be made to understand that they should not be spraying chemicals along the corridor at will and without community consultation.
Thank you all for your efforts,
your able Community Executive